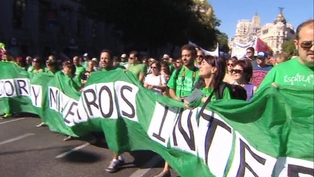 Spain is stuck in a double-dip recession with unemployment close to 25%.
The conservative government of Prime Minister Mariano Rajoy has introduced stinging cuts and raised taxes in a bid to reduce the deficit and to reassure investors and officials from the 17-nation eurozone.
The marchers unfurled banners with slogans such as "Let's go! They are ruining the country and we have to stop them."
"This government's policies are causing too much pain," union chief Ignacio Fernandez Toxo said. "It's a lie that there isn't another way to restore the economy."
The situation looks set to get worse in coming weeks. At a meeting of eurozone finance ministers in Cyprus yesterday, Spain revealed it would present a new set of economic reforms by the end of the month.
It is a move that raises expectations that Spain might soon ask for financial help.
The economic reform plan will be unveiled by 27 September. It is expected to be the launch-pad to Spain's tapping of a new European Central Bank bond-buying plan.
Just before today's march began, buses transporting protesters blocked several major roads in the Spanish capital.
The main organisers were Social Summit, an association of more than 150 organisations, and the Workers' Commissions and General Workers trade unions.
The Interior Ministry's regional office said it had expected more than 500,000 people to reach a central Madrid square, but later said 65,000 had attended to listen to speeches made by protest leaders.
http://www.rte.ie/news/2012/0915/spain-austerity-protests.html