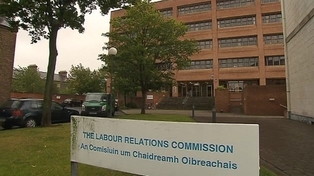 It follows the conclusion of talks involving the Irish Hospital Consultants Association, the Irish Medical Organisation and the HSE at the Labour Relations Commission.
HSE National Director of Human Resources Barry O'Brien said the new salary rate for consultants would be between €116,000 and €121,000.
Mr O'Brien said consultants did not agree with the new rate but they were aware of the HSE's decision to proceed with it and implement it.
He said new consultant posts would be advertised at this rate, which represented a €50,000 saving per consultant post.
Consultants have agreed to present compromise proposals on reforms to their members for consideration.
It is understood the document includes proposals to fully resolve issues around rosters and the reporting relationship with clinical directors.
However, two issues will be referred to the Labour Court for binding adjudication under the Croke Park Agreement.
Those issues centre on mental health services and arrangements for consultants' rest days in the future.
The issue of historic leave for consultants will be referred to the Labour Court under dispute resolution mechanisms rather than under the Croke Park system.
IHCA Secretary General Martin Varley said the proposals should give rise to a significant increase in productivity.
He said the overall outcome of the talks means that consultants will be in a position to continue to treat more patients in hospitals despite the financial pressures facing the country.
Speaking on
RTÉ's Morning Ireland
, Mr Varley said there was no agreement on the issue of a new consultant grade and it was not provided for under the Croke Park Agreement.
On the issue of rest days for consultants in the future, he said the HSE was proposing to reduce rest days to two days off for a consultant who was on call every day, night and weekend for a four-week period.
He said the IHCA could not agree to that as it did not make sense for a consultant to be on call for a full 26 days out of 28.
The Irish Medical Organisation will also present the proposals to members for consultation.
It is not yet clear when the consultation process will be completed or when the referrals to the Labour Court will take place.
Minister for Health James Reilly said the consultants' organisations have shown considerable leadership in agreeing to recommend the changes.
Instead of cutting those creaming from the top they take the easy route of cutting starting salaries of new consultants.
Spineless Cowards.