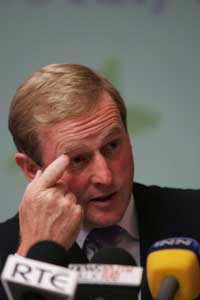 TAOISEACH Enda Kenny said councils should do everything they can to increase the rate of payment of the household charge.
Mr Kenny defended the decision of Clare County Council to ask college grant applicants to say if they had paid the €100 charge.
The Taoiseach said councils were not entitled to withhold a portion of any grant to cover the €100 charge.
But he said the local authorities are entitled to know, as far as it can, who had paid the charge.
"Every council should be active to have the level of payment increased," he said.
Mr Kenny also defended the Government's decision to cut only one allowance paid to public sector workers.
He said he will be bringing plans to squeeze more savings from public sector reform to the
Croke Park
Implementation Body.
Fianna Fail
leader Micheal Martin said the Government had announced a "humiliating climbdown, cave in and retreat" on their position of cutting allowances.
Only one allowance was cut to existing holders and several allowances will be cut for new entrants to positions.
Mr Kenny said the announcement yesterday affects new entrants, but 180 other allowances would be changed and 200 to be reviewed.