Wednesday, 23 May 2012
The National Asset Management Agency has announced proposals to invest €2 billion in Ireland over the next four years.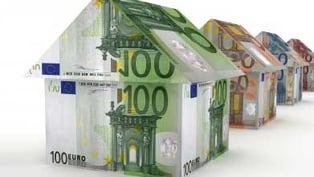 NAMA chairman Frank Daly said the investment could generate 25,000 jobs in construction and an additional 10,000 jobs in the wider economy.
The planned €2 billion investment was announced at a business breakfast in Galway city this morning.
The money will be used to complete commercial and residential projects and to develop future greenfield sites.
Mr Daly said that 90% of the agency's Irish property assets were located in the greater Dublin area and in Cork, Limerick and Galway.
NAMA will also launch at least one Qualifying Investor Fund this year, to attract big institutional investors.
With regard to residential mortgages, the agency said the 80:20 deferred payment initiative had generated €8.4m since the pilot phase was launched two weeks ago. Rental income is being generated from over 9,000 residential units.
Tuesday, 22 May 2012
THE DÁIL IS to take a five-day recess next week ahead of Thursday's fiscal compact referendum and Friday's count.
There will be no Dáil or Seanad sittings after Friday, May 25. The next sitting will be Tuesday, 5 June.
Although the proposal still has to be agreed in the Dáil on Thursday, Leinster House is preparing for a week's break, starting Monday.
It is understood that no party will object to the time off.
TDs were scheduled to have the week from 4 to 8 June off after the Bank Holiday weekend but it was thought more appropriate to move this forward, giving both the Yes and No sides more freedom to campaign.
Various parties did not take issue with the recess as it give time for TDs to get back to their constituencies to address various issues arising from the referendum and fiscal compact.
Thursday, 17 May 2012
Richard and Pearse battle it out onver the stabilty treaty, Richard gets owned by Pearse
A SENIOR civil servant who retired in 2010 before returning to his previous job on a part-time contract has been earning €6,000 a month -- on top of an annual pension of over €60,000.
Martin Heraghty, assistant secretary in the Department of Agriculture, has earned almost €121,000 on the part-time contract since taking an incentivised early retirement package in October 2010
Immediately after he retired Mr Heraghty was "re-engaged" in his former position.
He told the
Irish Independent
yesterday that the department had come to him asking him to continue in the post but he had fully intended retiring from the position.
"I am restricted in the number of days I can work . . . but other than that I am doing the full job within the department," he confirmed.
Under public sector rules, when pensioners are re-hired their pay and their pension cannot be more than their salary when they retired.
Normally, their pension is reduced to stay within this limit, but Mr Heraghty's hours are being restricted instead.
His current contract is due to run out in October, and Mr Heraghty could not say yesterday if the department would want him to stay beyond that, or if he would be willing to sign another contract.
As well as drawing a pension based on his years of service up to 2010, he is now paid on a daily basis for his work which includes responsibility for the meat and milk sectors.
The department declined to give the daily rate.
Mr Heraghty's duties included accompanying Agriculture Minister
Simon Coveney
on his trip to
China
last month.
Mr Heraghty took early retirement in 2010.
A long career in the department would have netted him a pension of close to half his previous salary which was on a scale between €131,748 and €150,712.
The department said that it had lost six assistant secretaries since the moratorium on recruitment was introduced and that only two of these had been replaced.
It added that Mr Heraghty had been reappointed with the approval of former finance minister
Brian Lenihan
Given the importance of food production and exports to economic recovery, along with
Ireland
's presidency of the
EU
next year and reform of the Common Agriculture Policy, the department needed to be well positioned at senior level to cope with the work involved, a statement said.
Extension
The department could not say if it would be necessary to extend the arrangement beyond October.
Mr Heraghty is one of six assistant secretaries in the department and he has responsibility for meat and milk policy and hygiene, dairy controls, food safety liaison with Northern Ireland and food industry development.
He took early retirement under the Incentivised Scheme for Early Retirement which was made available in 2009-10 to civil servants over 50 years old.
This offered them an immediate pension based on years served plus a 10pc lump sum, with the 90pc lump sum balance to be paid at normal retirement age of 60 or 65.
Mr Heraghty is also the department's representative on the board of farm education and research body Teagasc, but said that he did not receive any additional remuneration for that post.
He said that the number of assistant secretaries was down to six from around 11 or 12 a few years ago.
COMMITTEE ON EUROPEAN AFFAIRS: THE FISCAL compact is a "dangerous experiment" that will be "extremely painful" if implemented, an Oireachtas committee was told yesterday.
Prof Terrence McDonough of the school of business and economics at NUI Galway told the Committee on European Affairs the compact was "completely without historical precedent".
Forcing a country at the bottom of a depression to run budget cuts and tax increases year after year, and forcing the same policy on its neighbours, was not "the safe option".
"If the Irish people are against permanent austerity they should reject this treaty."
The fiscal compact, on which Ireland will vote in May, aims to place financial limits on how much countries can borrow in proportion to their revenue.
Megan Greene, senior economist at economic research company Roubini Global Economics, said the treaty was Germany insisting all other countries look more like Germany. "It is completely misguided, but I still think Ireland should support it."
She said rejecting the treaty would put important relationships with EU countries in jeopardy. Ireland would "absolutely need a second bailout" and she did not believe that if Ireland rejected the treaty the IMF would "break ranks" with the troika and provide funding.
Michael Taft of the union Unite said while the treaty may not mean "permanent austerity" it would feel like that for a generation.
Prof Brian Lucey of Trinity College Dublin said we need to "think long and hard" about the implication of the treaty for the bond markets. A large stock and flow of relatively low-risk assets, like government bonds, were required to support pension and investment funds. A shrunken market, which would be created if countries complied with the fiscal treaty deficit restrictions, would be "less able to fulfil that role".
Prof Gerry Whyte from the school of law at Trinity College Dublin said if it was intended to introduce a rule into the Constitution on limiting the budgetary deficit, the current amendment would not be "fit for purpose". However, it would give protection to legislation subsequently introduced to provide for the rule.
Asked by Paschal Donohoe TD (FG) if future governments could then change or abolish that legislation, Prof Whyte said there was no explicit provision in the treaty which allowed for states to withdraw from it. Once passed, breaching it would have legal consequences at international level.
Dr Andrew Storey from University College Dublin highlighted the European Trade Union Confederation's opposition to the compact, the first time it has opposed a European treaty. It was "particularly pertinent for Labour Party deputies and Senators".
Ian Talbot, chief executive of Chambers Ireland, said his organisation would be "vigorously" supporting a Yes vote. It was more likely to deliver enhanced confidence in Ireland, which would lead to increased spending.
hey're our EU neighbours.
Sinking into poverty and destitution.
But…
Finance Minister Michael Noonan has insisted that Ireland is unlikely to be affected by the Greek crisis because the two countries have no economic connections. Speaking at a Bloomberg event in Dublin, the Minister said Ireland is not on the frontline for contagion from Greece.
"Apart from holidaying in the Greek islands, I think most Irish people don't have a lot (of connections with Greece)," he said.
"If you go into the shops here, apart from feta cheese, how many Greek items do you put in your basket?"
That's alright then.