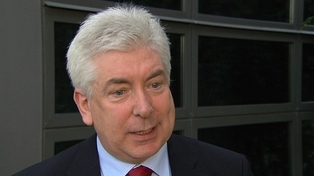 Tánaiste Eamon Gilmore has proposed Alex White to replace Roisin Shortall as Minister of State at the Department of Health.
He is expected to be formally appointed when the Cabinet meets on Tuesday.
Taoiseach Enda Kenny today said that he regrets and is disappointed that Ms Shortall has resigned.
He said that the Department of Health is one of the most challenging in Government.
He thanked Ms Shortall for her work in the department and particularly her report on the abuse of alcohol.
At the National Ploughing Championships in Co Wexford, Mr Kenny said it is always a difficult choice for anybody to resign as a minister of state or as a member of the Government.
Mr Kenny said that both parties in the Coalition had signed up for a Programme for Government in the knowledge of the financial problems and the adjustments that have to be made.
He said the difficulties ahead will not fix themselves and that the Government has a mandate to sort them out as fairly as possible.
Ms Shortall also resigned the Labour Party whip because of what she said was a lack of support for the health reforms outlined in the Programme for Government.
The former minister has been at odds for some time with Health Minister James Reilly.
Adams says Labour should pull out of Government
Sinn Féin leader Gerry Adams this afternoon said that Labour should leave Government in the wake of the resignation.
Speaking at Leinster House after his return from engagements in the United States, Mr Adams said Labour should pull out of the Coalition.
He said Labour should let Fine Gael form a Government with Fianna Fáil, as their policies are indistinguishable.
He called on Mr Gilmore to "show leadership" by withdrawing from Government.
Earlier, Labour Party Chairman Colm Keaveney and Minister of State at the Department of Transport Alan Kelly said that Ms Shortall enjoyed the full support of Mr Gilmore.
Mr Kelly said he could not second guess the criteria used in the selection process for a list of proposed health centres, but was confident they would emerge in time.
Minister for Public Expenditure & Reform Brendan Howlin said the resignation is a blow for the Coalition.
Meanwhile, James Reilly admitted last night he had no advance notice of the resignation.
In the Dáil this morning, Minister for Social Protection Joan Burton praised Ms Shortall, describing her as having "spoken truth to power" in her efforts to tackle the scourge of alcohol abuse.
However, Sinn Féin's Mary Lou McDonald said that when all the controversies around Mr Reilly began it became very apparent to her that the Cabinet would "circle the wagons".
She told Ms Burton that she was clearly standing by her man.
Speaking on RTÉ's Today with Pat Kenny, Minister for Communications, Energy & Natural Resources Pat Rabbitte said he believes Ms Shortall may have been frustrated at the pace of progress in relation to primary healthcare centres.
Mr Rabbitte said there was no doubt there was a difference of opinion between Ms Shortall and Mr Reilly in relation to health policy.
He said he believed Ms Shortall was guided by her convictions, saying it is difficult if you hold those convictions when your department has no money.
Minister for Jobs, Enterprise & Innovation Richard Bruton said he was disappointed Ms Shortall made the decision, but he said the Government must now get on with delivering its Programme for Government, which includes delivery of primary care.
Asked if Mr Reilly was damaged by the resignation, he said the minister has the backing of the Dáil and has a very difficult job to do. Mr Bruton said he has every confidence in the Mr Reilly.
Ms Shortall has made no comment yet but aides say she may in a few days.
What she says then, and subsequently, will be closely watched for signs that she intends to hold former colleagues to account from her new position on the back benches.
With a tough Budget looming, that could be a problem for the Government, and Labour in particular.
There are already those who feel that Mr Gilmore could have done more to support her and that he and Mr Kenny should have tried to avert her resignation.
Government urged to bring forward Sale of Alcohol Bill
The Joint Committee on Health and Children today called on the Government to bring the Sale of Alcohol Bill before the Oireachtas as soon as possible.
Ms Shortall had promised to bring forward proposals on the country's alcohol laws before her resignation.
Committee Chairman Jerry Buttimer praised Ms Shortall for her work in the area, paying tribute to her "achievements and commitment during her relatively short time in the Department of Health".
He said the motion calling for the Bill's introduction was timely, not least because of Ms Shortall's resignation but also because today was "being hijacked as a marketing gimmick by a major drinks company".