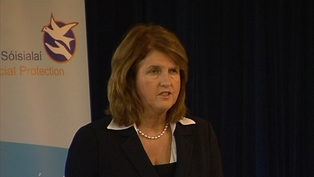 Minister for Social Protection Joan Burton has said she would "do her best" to ensure that core social welfare rates are not cut in December's Budget.
Ms Burton said last week that core rates of social welfare would be maintained.
Speaking on RTÉ's Today with Pat Kenny, Ms Burton described core social welfare rates as the "rates that people rely on for a weekly income".
Ms Burton gave contributory and non-contributory pensions as an example of core rates of social welfare paid to pensioners.
Asked if she could guarantee that these pensions would not be cut in the Budget, the minister said that she could not say that, but added that she was going to do her best.
In relation to Child Benefit, the minister said that she had to present the advisory group's report to Cabinet and then it would be published.
The minister added that she would also be discussing potential reforms with Minister for Public Expenditure and Reform Brendan Howlin and Minister for Children Frances Fitzgerald.