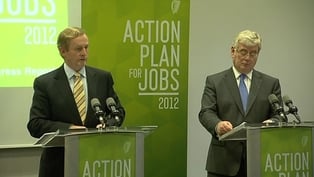 It is hoped the scheme will increase lending by up to €150m a year for three years, assisting 5,600 businesses and creating up to 4,000 jobs.
The announcement came as the Government published the latest progress report on its Action Plan for Jobs.
At this morning's announcement, Taoiseach Enda Kenny reiterated that jobs were the priority for the Government.
However, Tánaiste Eamon Gilmore warned that unemployment, which remains at 15%, is still a cause for serious concern.
This morning it was announced that from next Wednesday, where businesses are refused credit, that refusal will be reviewed.
The businesses may then be considered under the credit guarantee scheme, with the State potentially guaranteeing 75% of the loan.
If approved for a guaranteed loan, the business must pay the State, not the bank, an additional 2% fee, to avoid breaching rules on State aid.
Minister for Jobs, Enterprise and Innovation Richard Bruton said the scheme would push banks towards more risk-taking and help viable businesses to thrive.
It is expected that initially the scheme will facilitate up to €150m of additional lending each year at a cost to the State of €6.38m.
However, it is believed that when recouped taxes and decreased social welfare payments are factored in, the State will benefit by €25m on every €150m loaned.
Meanwhile, the Taoiseach said that 87% of the measures in the Action Plan for Jobs targeted for completion between July and September were delivered.
That is lower than the achievement rate for the first quarter figure of 96% and the second quarter of 94%.
All measures targeted for completion in the first and second quarters have now been delivered, resulting in an overall implementation rate of 96%.