Ireland is a special case': Kenny and Merkel commit to improving bailout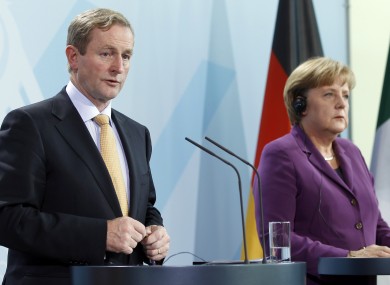 TAOISEACH ENDA KENNY and the German chancellor Angela Merkel have issued a joint statement affirming that Europe remains committed to splitting Ireland's banking and sovereign debts.
The statement comes after the two leaders spoke by telephone this afternoon.
Their joint communiqué says the pair had "discussed the unique circumstances behind Ireland's banking and sovereign debt crisis" and the deal reached by EU leaders four months ago, where they agreed to end the 'vicious circle' of banking and sovereign debts.
The two "reaffirmed" that deal, where heads of state told the 17 Eurozone finance ministers "to examine the situation of the Irish financial sector with a view to further improving the sustainability of the well performing adjustment programme".
The statement said Ireland was recognised as "a special case", given the circumstances under which Ireland was frozen out of the bond markets, and said the finance ministers would take this into account when examining how to improve the terms of Ireland's bailout deal.
Read More Here